[Introduction of CENAIR]
CENAIR turbo blower applies independently acquired technology through many years of experience and research and development. It is an eco-friendly product that contributes to improvement, cost reduction and improvement of the working environment..
[Applied technology]
The characteristics of the technology applied to CENAIR are as follows.
Air Foil Bearing
● Developed with our own technology and applied to CENAIR turbo blower
●Oil Free, No Vibration
●Bearings can be used semi-permanently
High-efficiency, high-speed motor
● Motor design based on optimal efficiency of 2D/3D F.E.A and a structure that satisfies F and H grades enables normal
operation in harsh environments
● Maximum rotational speed of 18,000RPM, highest efficiency (rated load, over 85%)
Air Seal
● Completely separate the motor and impeller while using the turbo blower
● Prevents external dust, moisture, gas, etc. from entering the motor to prevent damage to the motor and prevent
harmful substances mixing into the outlet
Impeller
● Maximize the blowing ability by realizing high efficiency after turbulence analysis through CFX-18 and SST model
[CENAIR Blower & Internal configuration]
The figure below is product and its internal configuration of Sen Air Turbo Blower.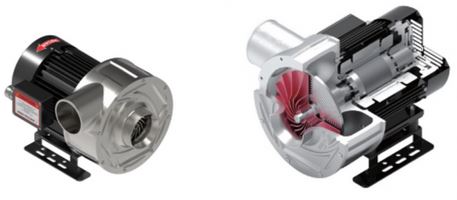 [General features & Technical features]
CENAIR Turbo Blower consists of various products to meet the needs of various users, and the types of products are classified according to the number of horsepower. The description of the technical characteristics of CENAIR is divided into common data and technical data for each product, and the table below shows general features and technical features for each product.
[General features]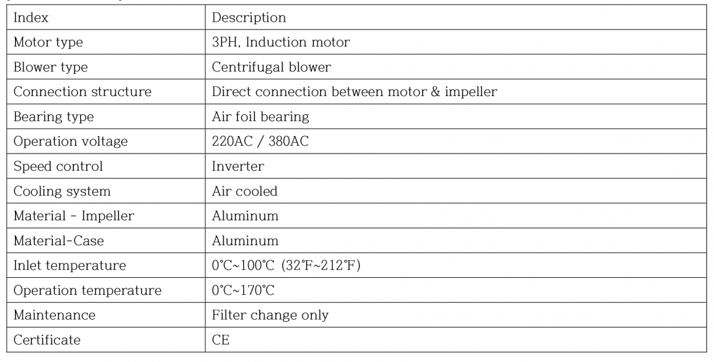 [Technical features]
As shown in the table below, the technical details of each CENAIR turbo blower differ in many technical matters such as size, pressure, flow rate, and weight, so it is important to select the appropriate product for the user environment.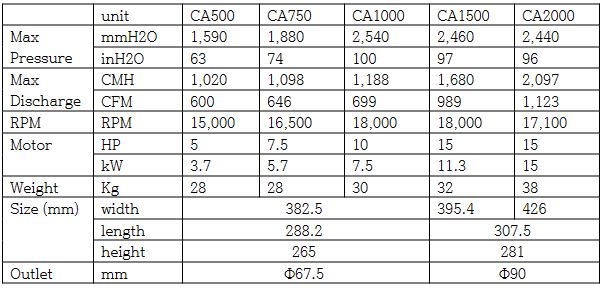 [Pressure & Wind speed by RPM]
Since CENAIR turbo blower is used in connection with an inverter, the user can adjust the required air volume and pressure at any time by adjusting the RPM if necessary.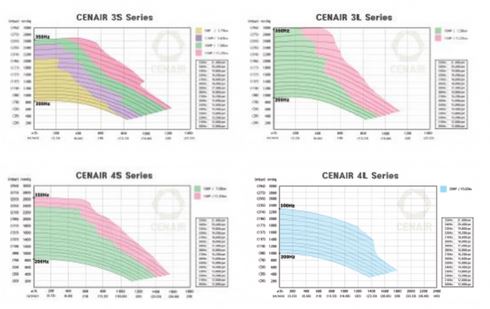 [Position of Outlet]
CENAIR turbo blower provides 4 variable positions so that the position of the outlet can be adjusted and used according to the user's working environment, and the user can change the position of the outlet at any time according to the working environment.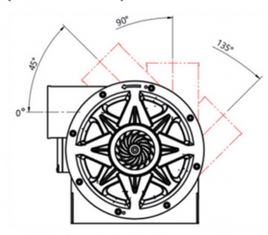 [Connection with Inverter]
In order to use the CENAIR turbo blower, an inverter must be used, and the connection between the inverter and the motor can be connected through the terminal box installed on the motor. When connecting the inverter wire to the terminal box, be careful because the wiring method is different depending on the voltage used.