[What MICRO 119 is? ]
MICRO 119 is a smart fire extinguisher for an initial state fire and innovative technology of MICRO encapsulation
of fire-extinguishing substance.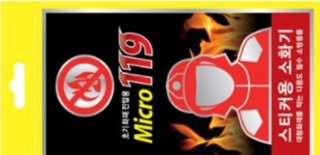 [How it works? ]
MICRO 119 is manufactured by encapsulating a fire extinguishing substance, and applying it to a thin cloth after mixing up with different dyestuff.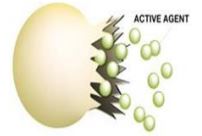 The exploding extinguishing substance acts as a dome around the temperature rise element to block oxygen and extinguish the fire.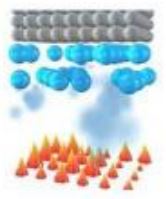 [Core value of MICRO 119]
The core value of MICRO 119 is that it automatically detects and puts out the fire at the initial stage of a fire even when there is no person or special equipment or system. Through this, loss of life or greater property can be prevented in the early stage of a fire.
[Features of MICRO 119]
- MICRO 119 is able to apply to all fire types like Class A, B, C and E
- Protection class : IP20
- No separate power supply required
- No harmful for human being and environment
- No special tools are needed, and it can be used by attaching it to the required space.
- Quick response to fire (within 10 seconds)
- Less smoke when extinguishing
[Environment & Conditions]

[Product appearance and packaging]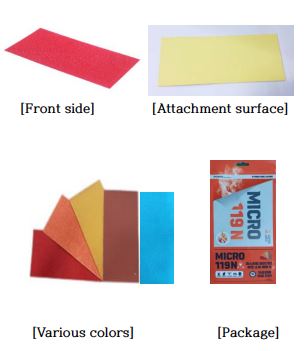 [Product size]
width x height x thickness : 12cm x 24cm x 0.15cm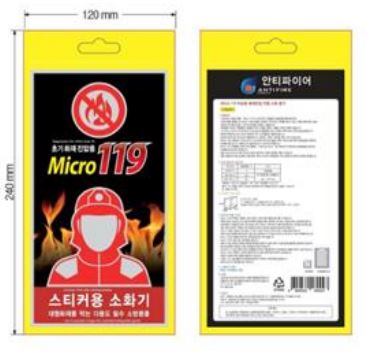 [MICRO119' Certificates]
- KFI (Reg No.201701076)
- KTL (Certi No. 1004-M0001-19001)
- JFI (Reg No.X-FIRE 20190221)
- Kuwait Fire Department(Reg No.20191003)
[Quality Assurance]
MICRO119 was received product performance confirmation from KFI(Korea Fire Institute), and based on this, it
obrained domestic product certification (Reg No.201701076) from KFI, and overseas product certification for related
products (Certi No. 1004-M0001-19001) was obtained via KTL(Korea Test Lab).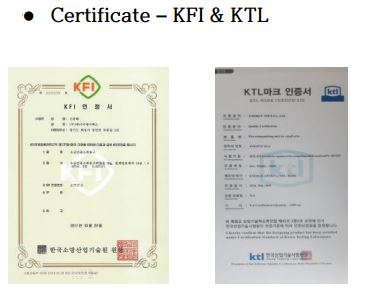 In addition, the product was registered to the Ja pan Disaster Prevention Association with Reg No. X-FIRE 20190221 as well as this product was registered to the Kuwait Fire Department with Reg No. 20191003.
[Applications & Industries]
MICRO119 can be applied to various places where fire risk can exist, the photos below show examples of its application
and applicable industries.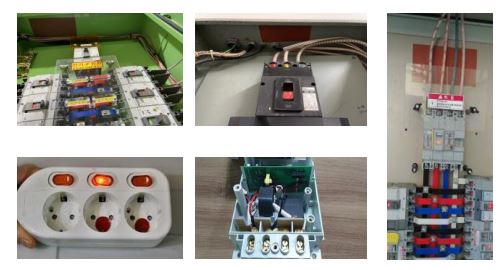 [Applicable Industries]
[MICRO119's major clients]
- Major companies, Government offices in Korea,
[Business Cooperation]
- Export : Japan, Taiwan, India, Kuwait, China, etc
- Partnership : Oman, UAE, Israel, Arzentine, Peru, Netherland, etc about 15 countries