[Introduction of Pro Air]
Pro Air is an Air Knife solution built with the mottos of "Powerful, Precise, and Perfect" on Know How accumulated through long-term knowledge and experience.
[Advantages of Pro Air]
1) Various materials
Pro Air uses a variety of materials to manufacture and supply air knives that fit the customer's work environment, and materials other than those currently supplied can also be manufactured and supplied through a separate consultation.
● General industry: Aluminum
● Food and beverage industry stainless steel
● Corrosion-resistant environment titanium
● High temperature environment: INCONEL 1000℃, STS310 800℃
● Large amount of hydrochloric acid, sulfuric acid, etc.: HASTELLOY
2) Various configurations
Pro Air provides a variety of solutions for air-connecting piping directions, connection methods, air discharge methods, and fixing methods for air knives in order to respond to various customer needs when manufacturing air knives. We can also provide a solution that suits customer's needs.
● Air piping direction: Side, Top, Front
● Air piping method: Tap, Pipe, Fitting
● Air exhaust method: Air Knife, Air Nozzle
● Fixing method: Pipe, Insert, Bracket
3) Functional Advantages
The distinguishing feature of Pro Air from other air knives is that in the case of Pro Air, the spacing of the air outlet slit can be adjusted.
● Slit spacing for compressed air (CDA, N²): 0.03, 0.05, 0.07, 0.1mm, customer requirements
● Slit spacing for blower: 0.4~5mm, customer requirements
Also, in the case of air knives for compressed air, turbulence occurs inside as air rapidly flows into the knife. In order to
evenly distribute and stabilize the generated turbulence, the length of the screw inside and the clearance compared to
other companies was lengthened so that air can be evenly supplied through the entire slit of the knife.
In addition, if the air knife blade cannot be used due to an unexpected situation on the surface on which the product is moved, other companies have to replace the entire air knife, whereas Pro Air only replaces the blade. From the
customer's point of view, maintenance costs can be dramatically reduced.
Specifications of air knife for compressed air

The difference between the standard type and the precision type of air knives for compressed air

Air consumption calculation table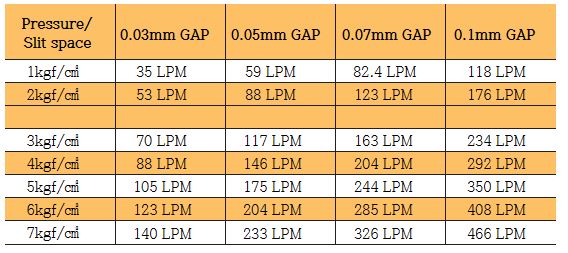 Features of Air Knife for Compressed Air
1) The use of compressed air can be minimized with the COANDA effect.
2) Low noise (69dB) enables a pleasant working environment.
3) Lightweight, easy to move and compact design.
4) Compressed air consumption can be significantly reduced compared to conventional air nozzles or hybrid nozzles
(flippers) (saving electricity).
5) Compressed air from the compressor can be connected with a fitting, so piping work is easy.
6) Customized bracket production is possible.
Specifications of air knife for blower

Features of Air Knife for Blower
● Various air volume and wind speed applied according to blower capacity
● Made of aluminum (anodizing) or stainless steel
● Adjustable spray angle and slit spacing
● Wind speed deviation within 3%
● Possible to manufacture mounting brackets according to customer specifications
Applications of Air Knife for Blower
● Removing water after cleaning
● Uniform surface drying
● Removal of semiconductor line particles (suction, discharge)
● Steam sterilization
● Remove water before attaching labels on cans and bottles
● Air curtain for blocking foreign matter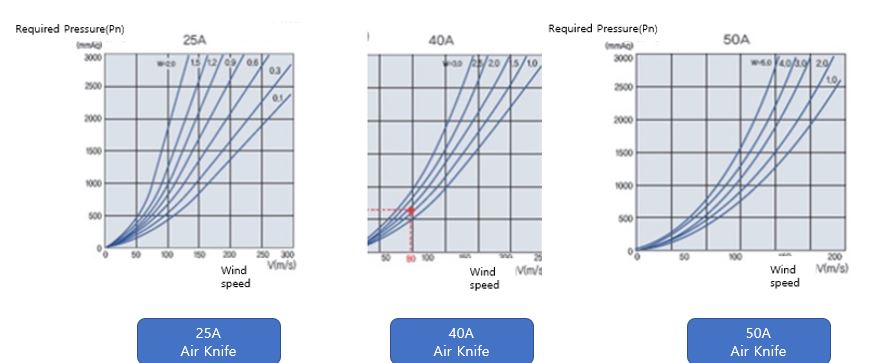 The table below shows the required wind speed and slit spacing for each application

Major Customers
1) Samsung Electronics, Samsung Electro-Mechanics, Samsung SDI
2) LG Display, LG Innotek
3) SK Hynix
4) Hanwha Advanced Materials
5) Hyundai Wia, Hyundai Steel
6) Hite Jinro, Virac Co., Ltd., POSCO, Hyosung, etc.